Happy St. Patrick's Day, everyone! Sláinte!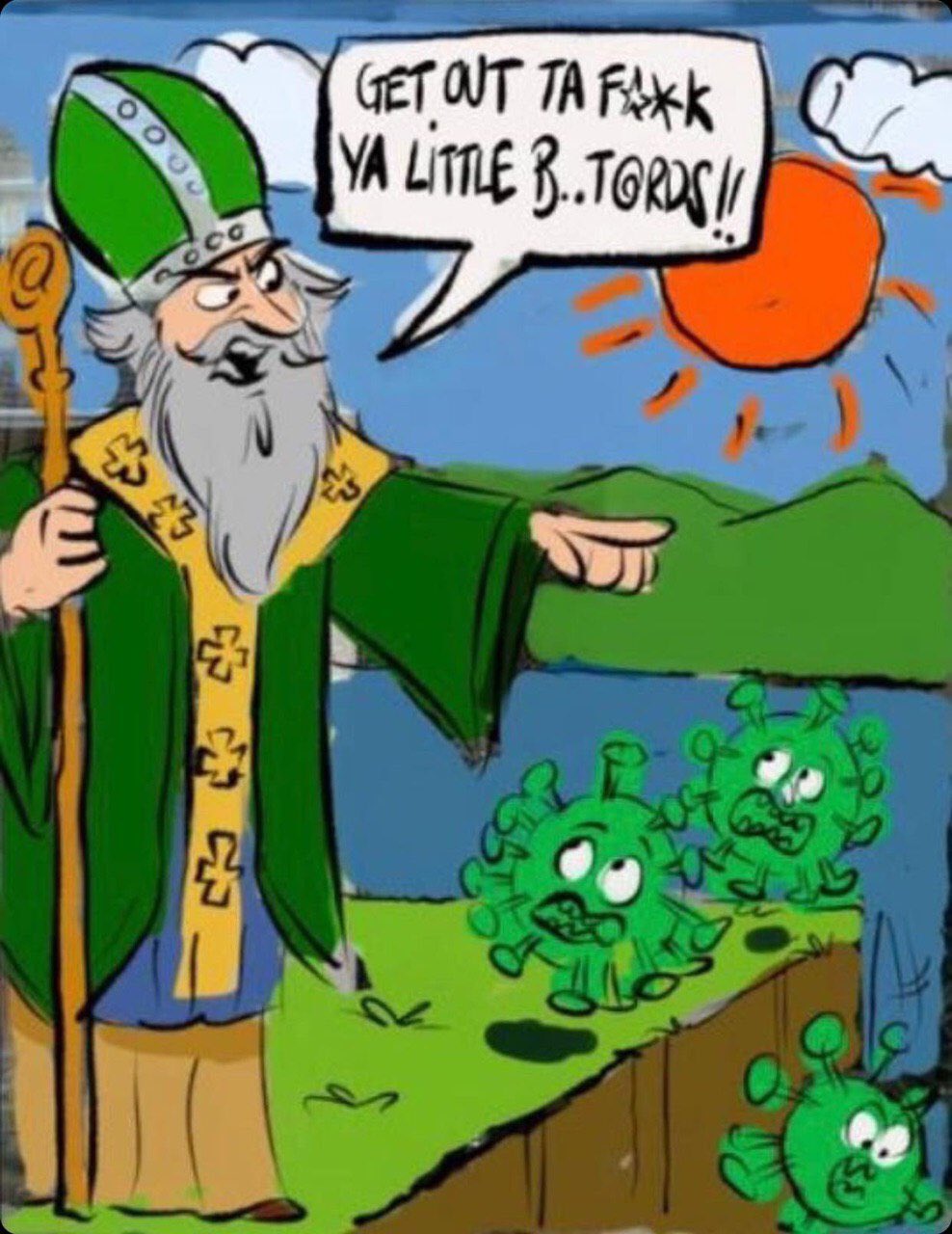 I have compiled a list of ways that we can all celebrate St. Patrick's Day without the traditional venues of pubs and parades. Please feel free to add to this list in the comments.
Dye the water green before you wash your hands.
Watch movies with fake Irish people and determine which one does the worst Irish accent. Here are some suggestions:

Brad Pitt in The Devil's Own
Tom Cruise in Far and Away
Sean Connery in The Untouchables

Compete with your neighbors to grab the last box of Lucky Charms cereal off the grocery store shelves. Bonus: this is good exercise, too!
Make a list of all the things St. Patrick could have potentially vanquished from Ireland, in addition to snakes. For example, some of my Twitter friends hate mushy peas, and would probably have appreciated St. Patrick vanquishing improperly cooked peas.
If you're Irish American, you can spend time pondering what "percentage" Irish you are. Kill time!
Read Irish newspapers and see what a country with a leader other than Donald Trump is doing to protect its citizens. I know Leo Varadkar isn't anyone's idea of a visionary, take-charge leader, but feck sake, he's better than the Dotard-in-Chief.
Replay video of Ian Paisley  denouncing Pope John Paul II as the antichrist.
Re-read some of Paisley's more colorful denunciations of Catholicism. My favorite: "Priest Murphy, speak for your own bloodthirsty, persecuting, intolerant, blaspheming, politic-religious papacy, but do not dare to pretend to be the spokesman of free Ulster men . . . Go back to your priestly intolerance, back to your blasphemous Masses, back to your beads, holy water, holy smoke and stinks and remember . . we know your church to be the mother of harlots and the abominations of the Earth."
Tell Irish jokes to everyone you live with. There are many repositories online. The bonus points for the person who can use the word "cunt" the most times in a single joke.
Try to grow potatoes in your garbage can. Here are instructions.